Small Business Accounting -

Easier than Xero



Easy Accounting software for your Payroll, STP, Invoices and Expenses.
Low cost — up to 80% cheaper than Xero.
Built for Australian Small Businesses — just like yours.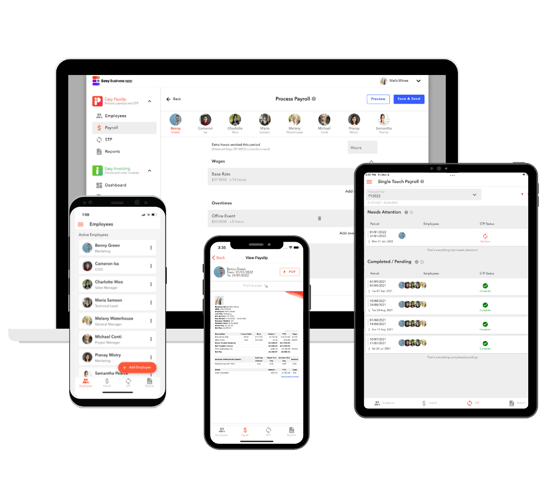 Trusted by 10,000+ Australian Small Businesses



Easy Business App vs
Xero
See for yourself how Easy Business App is Easier than Xero. And up to 80% cheaper too.
| | | |
| --- | --- | --- |
| | | |
| Get started in 5 minutes | ❌ | ✔️ |
| Aussie phone support | ❌ | ✔️ |
| Payslips and Single Touch Payroll (STP) | ✔️ | ✔️ |
| Invoices & Quotes | ✔️ | ✔️ |
| Expenses & Income | ✔️ | ✔️ |
| Reports (BAS preparation, Cashflow, Profit & Loss) | ✔️ | ✔️ |
| All functionality on any device (phone, tablet, laptop) | ❌ | ✔️ |
| ATO approved | ✔️ | ✔️ |
| Unlimited Invoices, Expenses and Reports | $59/mo. | FREE |
| 1 employee - Invoices, Expenses, Payroll & STP | $29/mo. | $9.95/mo. |
| 6 employees - Payroll and STP | $87/mo. | $13.95/mo. |
| Discounts for advisors | ✔️ | ✔️ |
| Only pay for the features you need | ❌ | ✔️ |
Pricing correct as of 13 March 2023. Xero Starter ($29), Xero Standard ($59) and Xero Premium 10 Plans ($87) compared.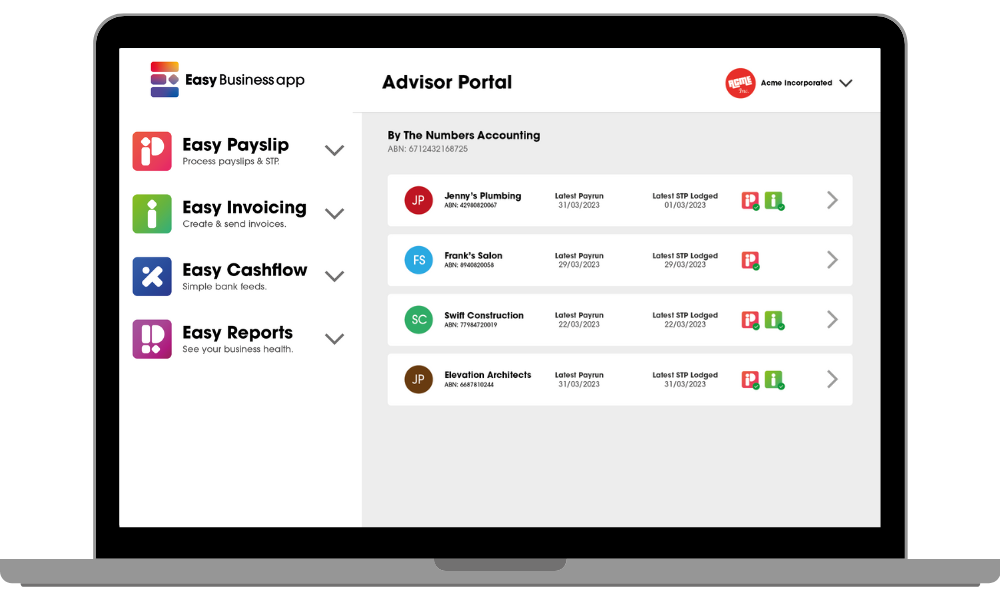 Accountant or Bookkeeper?
Learn more about how Easy Business App is the best tool for the job for your small business clients.

For
Small Business Owners
You didn't start your business because you love admin. You want the fastest, easiest solution for dealing with your payroll, invoicing, expenses and everything else you need to run your business.
Your accountant may recommend you "just use Xero" — because it's easier for them, and because Xero often incentivise them to do so.
But Xero is complex, expensive and time-consuming software to learn.
There is an alternative - specifically designed for Australian small businesses like yours - Easy Business App. Most of it's free, you only pay for what you need and you can be up and running in minutes.

For
Advisors
We know that using Xero makes sense for a lot of your clients. And that's great. It sure beats clunky old desktop accounting software.
But for some of your clients, it's just too complicated. It's full of accounting terminology, and it's too expensive.
For those clients, wouldn't it be better if there was a simpler, more affordable solution - one where the business owner could do most of their own admin, yet you could jump in when needed for your high-value services?
Get a great discount, your own partnerships manager, and access all your clients from your own dashboard. Book a demo to see how easy it is.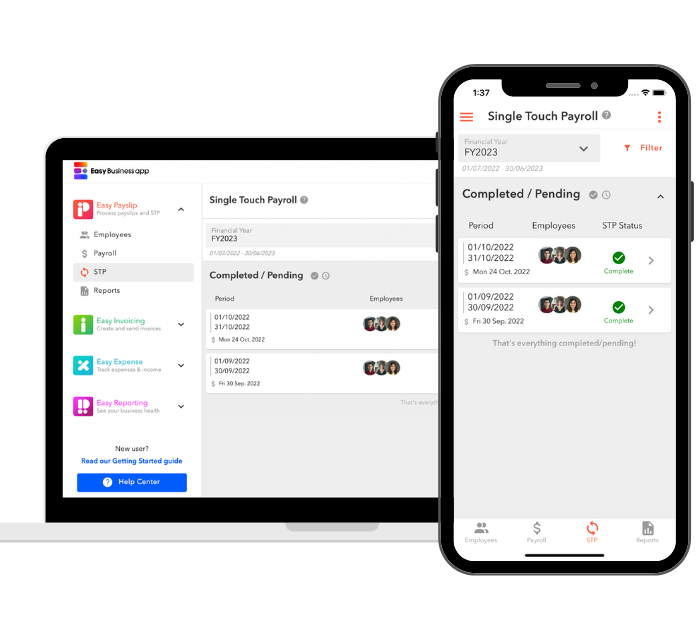 All the features you need
✅ Send Single Touch Payroll (STP) files to the ATO on any device. Web, mobile or tablet.
✅ Create, customise and email employee payslips — options for multiple rates, overtime, allowances, deductions, entitlements and more.
✅ Create beautifully designed and customisable invoices and quotes in seconds.
✅ Let customers pay you instantly from your invoice, via credit card.
✅ Snap receipts and add expenses in seconds and track non-invoice income.
✅ See the true health of your business with Cashflow, Profit & Loss, and BAS Preparation reports. Coming Q4 2022.
✅ Share everything with your accountant, bookkeeper or business partner. They can access your account (for free) to give you a hand and some peace of mind.
✅ Our local Australian support team is just a phone call or email away.



Get Started Today
Join the 10,000+ Australian businesses already using Easy Business App.
Get started today for free.
What our Customers Say
Barb
Owner, Sports Power
Armadale, WA
"Very easy to use and does the job for employees and the ATO. The Help Desk is AMAZING!!"
Mark
Owner, MD Painting Services
Perth, WA
"Easy Payslip saves me so much time...I just put the figures in and it does it for me!"
Claudio
Director, Stay Bonanza
Seaholme, VIC
"The company name says it all - it's easy to use, and they offer excellent customer service."
John
Owner, Choice Automotive Repairs
Kogarah, NSW
"The best thing is their Mobile App, It's brilliant! And nothing beats their Aussie customer service!"
Suzi
Owner, Gents & Rascals
Maroubra, NSW
"It's a two-second job doing payslips and STP! The app saves me hours of spreadsheets and data entry."
Pricing
Only pay for what you need - just choose the plan that works for you for each module.
No annual commitment, no lock-in contracts.

FREE*
*Unlimited invoices and quotes until January 2024, then continue with a free plan, or upgrade with plans from just $9.95/month.

$9.95/month - up to 4 employees
$13.95/month - up to 6 employees
$21.95/month - unlimited employees

FREE
Add unlimited expenses and income items for free.
FREE
Run unlimited reports as often as you like for free.